Every weekend and on selected holidays we serve our brunch buffet from 9:30-14:30.
Coffee, tea and a variety of juices are included in the price of DKK 245 and ad libitum.


Brunch buffet filled with flavor, quality & organic
The brunch is composed of products from selected producers who, in collaboration with the kitchen, guarantee taste, quality, ecology, health and, not least, seasonal Danish produce. In addition, we make every effort to accommodate food intolerances, and we have a large selection on the buffet for both gluten and lactose allergy sufferers.
On the buffet, you'll find signs telling you what the different products contain, making it easier to navigate. In addition to the traditional brunch, we also offer many lunch dishes, such as salmon, homemade chicken and tuna salad, spring rolls and delicious flavorful "wellness salads". Everything is made to order by the chefs in the kitchen, so the buffet is always fresh.


We welcome you at the following times:
1st seating: 9:30, 9:45 or 10:00.
2nd seating: 12:00, 12:15, 12:30.
The buffet closes at 14:30
You have the table at your disposal for 2 hours. We receive many requests for table placement. Please know that we do our very best, but unfortunately we cannot promise to accommodate all requests.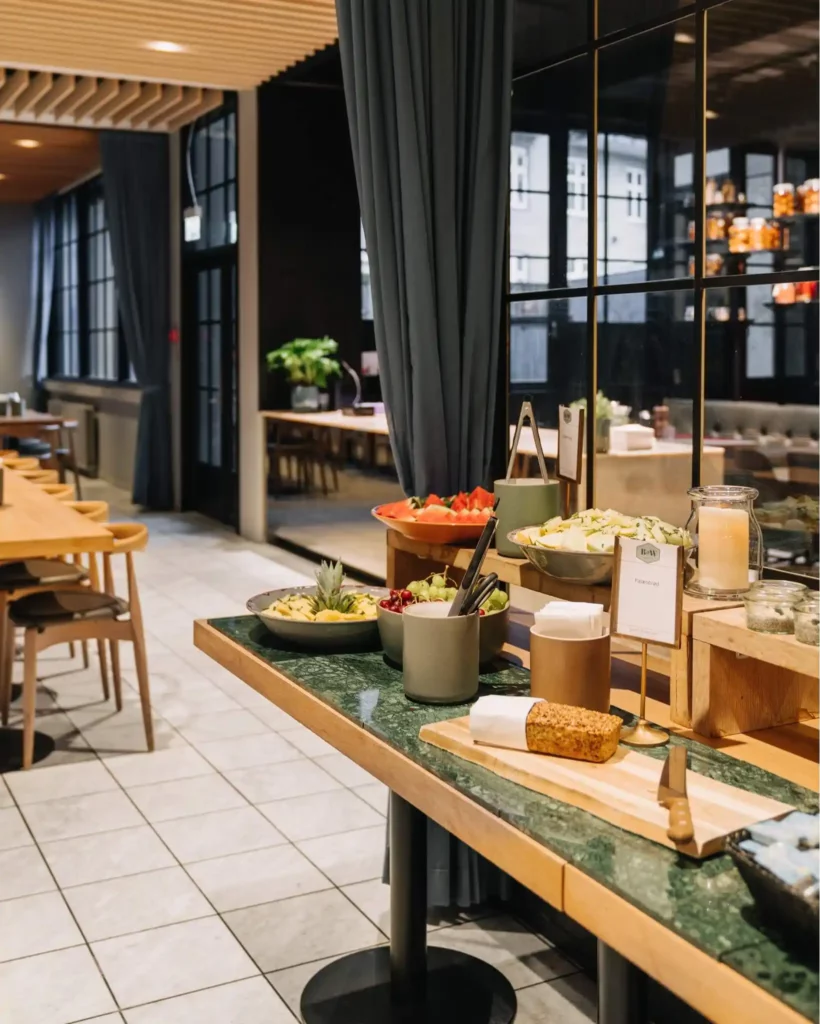 If you are 12 people or less, please book your table online
We can accommodate both small and very large parties.
The buffet closes at 14:30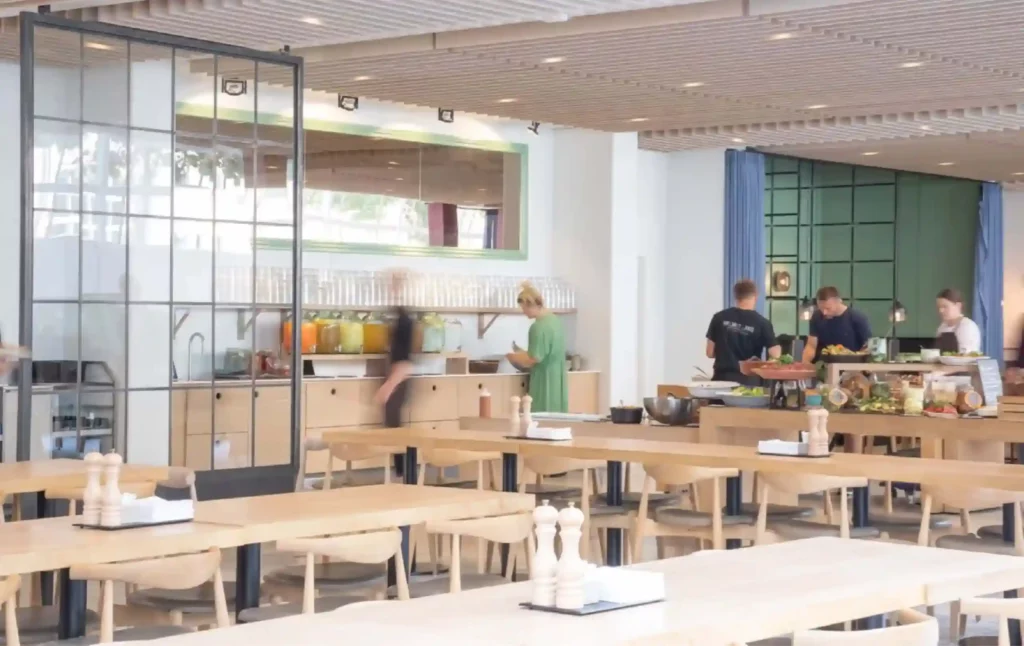 The price is DKK 245,- for 2 hours incl. coffee/tea and juice | 4-10 years DKK 160,- | 0-3 years DKK 25,-
The price is DKK 350,- for 3.5 hours incl. coffee/tea and juice | 4-10 years DKK 195,- | 0-3 years DKK 35,-



Brunch Buffet in Copenhagen
It's the weekend and you need to be pampered. If you're looking for a good and delicious brunch buffet in Copenhagen, don't hesitate, B&W provides the most delicious brunch with a focus on something for everyone. We have a wide selection of quality-assured ingredients that are organic and full of flavor. In addition, we have a number of gluten and lactose-free alternatives, should you prefer this.
In our buffet there is something for all taste buds, in addition to having a large selection for both gluten and lactose allergy sufferers, we also have options for those who do not eat meat. We provide fresh and delicious seasonal ingredients and continuously replenish the buffet so that there is always a wide selection.
So whether you're having brunch with your family, date or friends, there's room for you in our buffet. We are centrally located in Copenhagen on Vesterbro, where we are just a stone's throw from Frederiksberg metro. Our location at B!NGS is Bing and Grondahl's old porcelain factory, so our premises are full of history.


Looking for a brunch buffet in Copenhagen?
 Are you planning an event in Copenhagen? In the restaurant you are free to host a variety of parties, we take care of the table setting, cooking and dishwashing so you can enjoy your guests and be present at the event.
Our venue is perfect for parties, and we have plenty of experience whether it's for 6 or 12 guests. If you need longer seating or if you have more than 12 guests, please contact us for more information.
After a pandemic and countless restrictions, we are once again ready to open our doors to our lovely guests. Follow us on Instagram or Facebook to see a wealth of delicious food options you won't want to miss. If you need inspiration for what to do this weekend in Copenhagen, you can take a look at what we have to offer. However, we can't promise that you won't feel hungry after you've been there.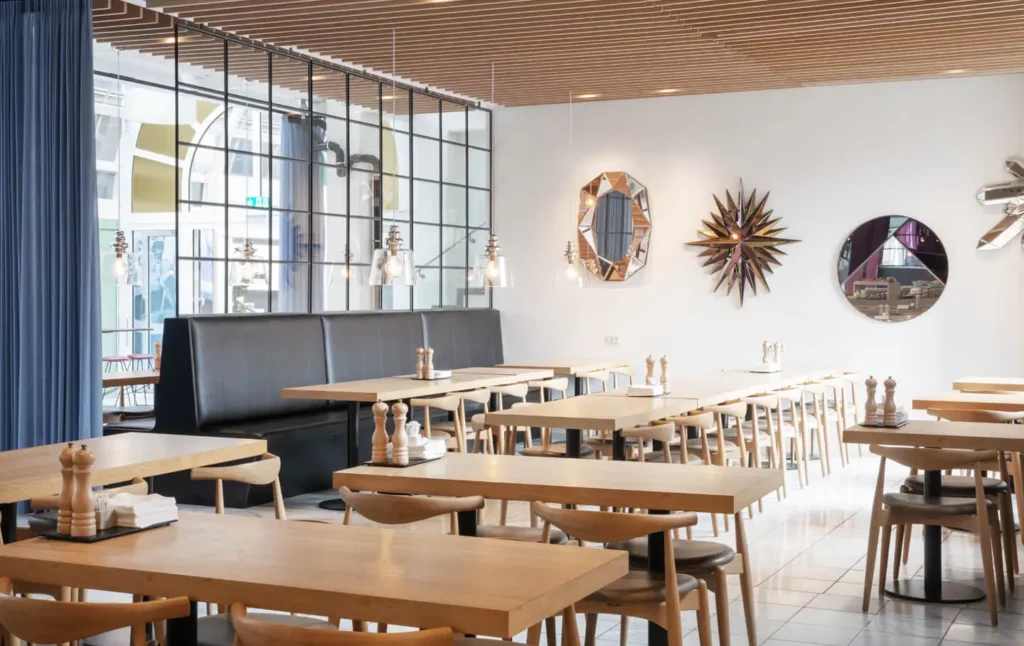 Selection of organic buns (lactose free)
Paleo bread (gluten-free and lactose-free)
Gluten-free seed rolls (gluten-free and lactose-free)
Spandauers
Tea biscuits (lactose free)
Cinnamon rolls
Pain au chocolate
Butter croissant
Cake of the day
Daim pie (gluten-free)
American pancakes
Fried beef chorizo (gluten-free and lactose-free)
Crispy bacon (gluten-free and lactose-free)
Spicy veal meatballs (halal)
Scrambled eggs (gluten-free)
Falafels (lactose free)
Puff pastry vegetable pies of the day
Vegetarian spring rolls with teriyaki sauce (gluten-free)
Shakshuka (gluten-free and lactose-free)
Egg salad with chives and cress (gluten-free and lactose-free)
Tuna salad with capers and lemon (gluten-free and lactose-free)
Chicken salad with mushrooms and celery (gluten-free and lactose-free)
Cold smoked salmon with sauce verte (gluten-free and lactose-free)
Eel smoked ham (gluten-free and lactose-free)Pastrami (gluten-free and lactose-free)
Rolled sausage (gluten-free and lactose-free)
Turkey Chorizo (gluten-free and lactose-free)
Organic slice cheese (gluten-free)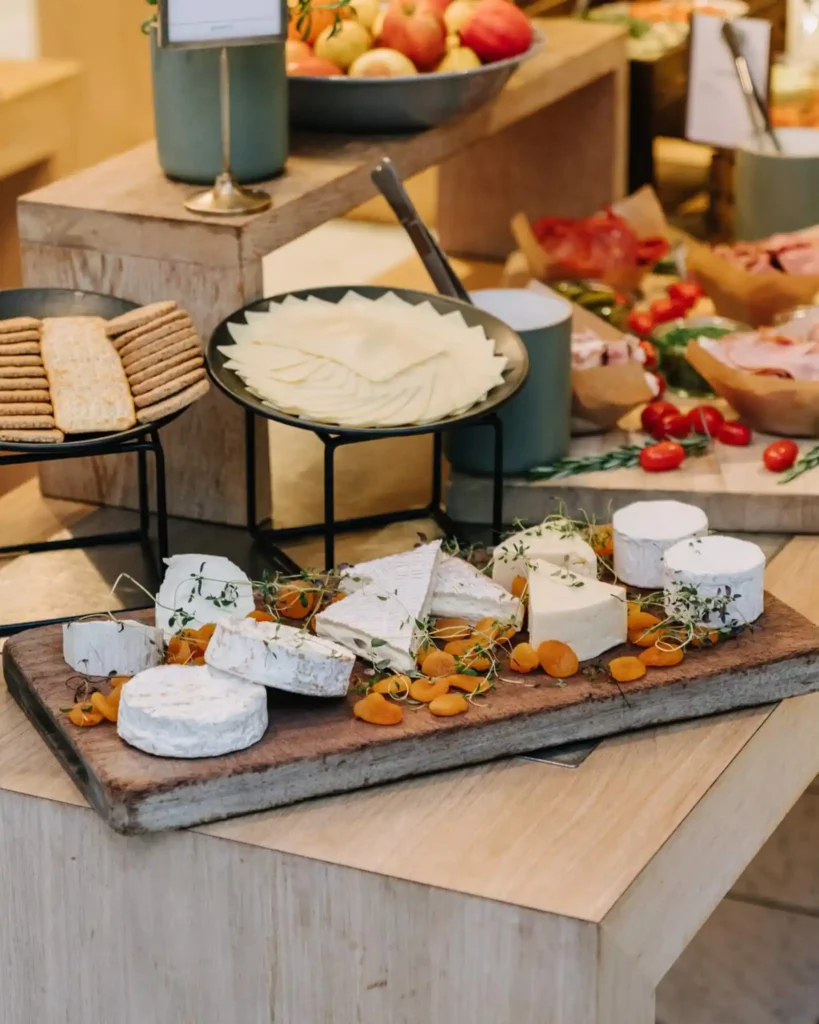 5 kinds of European cheeses (gluten-free)
Various homemade jams (gluten-free and lactose-free)
Homemade peanut butter (gluten-free and lactose-free)
Homemade chocolate spread (gluten-free)
Hummus (gluten-free and lactose-free)
Chia porridge with almonds and blueberries (gluten and lactose free)
Small organic mixed flavor yogurts (gluten-free)
Lactose-free yogurt (gluten-free and lactose-free)
Blueberry-flavored plant yoghurt (gluten-free and lactose-free)
Various muesli (min. 1 gluten-free)
Assorted nuts (gluten-free and lactose-free)
Raisins (gluten-free and lactose-free)
Marinated blackberries (gluten-free and lactose-free)
Chocolate mousse
Fresh cut fruit (gluten-free and lactose-free)
Fruit salad (gluten-free and lactose-free)
Caesar salad with parmesan and croutons
Pasta salad with pesto, sun-dried tomato and baked vegetables
Salad of the day (gluten-free and lactose-free)
Coffee ad libitum
Cocoa 
Organic tea of the finest quality from Danish Cocoon Tea Artisans ad libitum
Organic orange juice & apple juice ad libitum